Bibliography of Psidium guajava
Since ancient various parts of the plant have been used for medicinal purposes. The Mayans cooked leaves and bark to treat gastrointestinal problems. Actually, the fruits are highly sought by a lot of wild and domestic animals and flowers because it's an important source of pollen and nectar for beekeeping. The bark, leaves and fruits contains tannins, and they have been used for dye.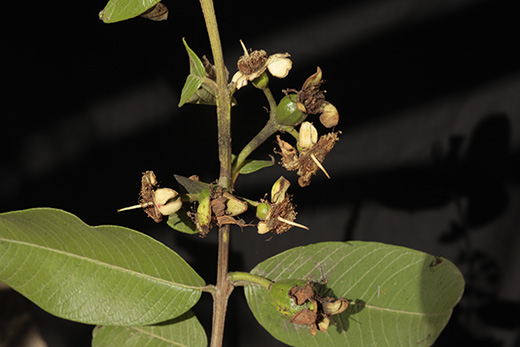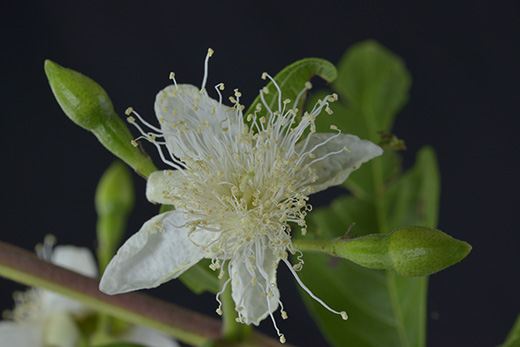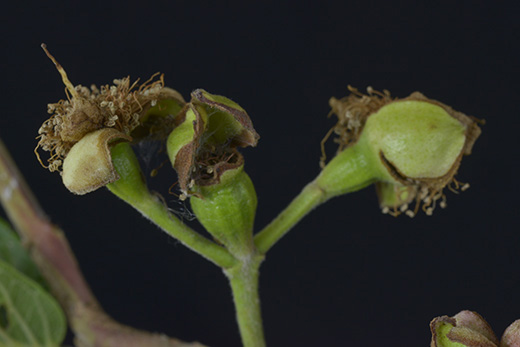 Here is a bibliography on Psidium Guajava and Tobacco.
ABUBAKAR, Muhammad
2009
The use of Psidium guajava Linn. In treating wound, skin and soft tissue infections. Journal of pharmacy Research. 4:605-611pp.
ALI, An and SHAMSUZZAMAN, M.
1996
Isolation and characterization of antibacterial constituents from the bark of Psidium guajava. Bangladesh Journal of Scientific and Industrial Research. 31(2): 133-139pp.
ARIMA, H. and DANNO, G.
2002
Isolation of antimicrobial compounds from guava (Psidium guajava L.) and their structural elucidation, Bioscience, Biotechnology and Biochemistry. 1727-1730 pp.
AYENSU, E. S.
1978
Medicinal Plants of West Africa. Reference Publications, Algonac, Michigan. ISBN No. 0-917256-07-7
BARBALHO, Sandra., FARINAZZI-MACHADO, Flávia., ALVAREZ, Ricardo Ana., SAAD, MACHADO, Alda., and TEIXEIRA, Claudia
2012
Psidium guajava (Guava): A Plant of Multipurpose Medicinal Applications. University of Marília (UNIMAR), Av. Higino Muzzi Filho 1001, Marília 15525-902, SP, Brasil.
BURKILL, H. M.
1997
The useful plants of West Tropical Africa. Edition 2. Vol. 4. Families M-R. Royal Botanic Gardens Kew. ISBN No. 1-900347-13-X.
DEY, Kanny
1896
The indifenous drugs of India. Short descriptive notices of the principal medicinal plants met with in British India. 2nd edition. Thacker, Spink & Co. Calcutta.
ISBN. No. not available.
F. BASSOLS and DEMOLE, E.
1994
The occurrence of pentane-2-thiol in guava fruit. Journal of Essential Oil Research 6(5): 481-483pp.
GUTIERREZ, R. M., MITHCHELL, S. and SOLIS, R. V.
2008
Psidium guajava: a review of its traditional uses, phytochemistry and pharmacology, J Ethnopharmacol, 117(1), 1-27pp.
JAIARJ, P., WONGKRAJANG, Y., THONGPRADITCHOTE, S., PEUNGVICHA, P., BUNYAPRAPHATSARA, N. and OPARTKIATTIKUL, N.
2000
Guava leaf extract and topical haemostasis. Phytotherapt Research. 388-391Pp.
JIMENEZ-ESCRIG, A., RINCON, M., PULIDO, R. and SAURA CALIXTO.
2001
Guava fruit (Psidium guajava L.) as a new source of antioxidant dietary fiber. J Agric Food Chem. Nov 49(11):5489-93pp.
LEONTI, M., VIBRANS, H., STICHE, O. and HEINRICH, M.
2001
Ethnopharmacology of the Popoluca, Mexico: An evaluation. J. Pharmacy Pharmacol, 53, 1653-1669pp.
MORTON, Julia F.
1981
Atlas of medicinal plants of Middle America: Bahamas to Yucatan. C. Thomas, Springfield, Illinois.
PENG, R. Y. and C. L. HSIEH
2006
Review on the medicinal uses of Psidium guajava L., Recent Progress in Medicinal Plants. 20, 215–248pp.
POPENOE, Wilson
1919
The Useful Plants of Copan." American Anthropologist. American Anthropological Association. 21, no. 2: 125, 138pp.
SHRUTHI, Shirur., ROSHAN, Adhikari., IMILSINA, Sanjay and SUNITA, Sajjekhan
2013
A Review on the Medicinal Plant Psidium guajava Linn. (Myrtaceae). Journal of Drug Delivery & Therapeutics; 2013, 3(2), 162-168pp.
STANDLEY, Paul C.
1920
Trees and Shrubs of Mexico, Contributions from the United States National Berbarium, Washington, Government Printing Office. Vol. 23, Part I.
THOMPSON, J. Eric S.
1930
of the Mayas of Southern and Central British Honduras. Field Museum of Natural Histor, Anthropological Series, Vol. XVII, No. 2, Pub. 2
First posted April 30, 2014