FLAAR Art & Archaeology Book Service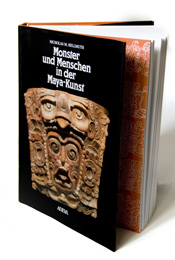 Monster und Menschen in der Maya Kunst by Nicholas Hellmuth is the only book that FLAAR is selling at the moment.
Books are an essential source of information on Maya archaeology, yet it is often frustrating to find the titles that are needed. In order to assist people in learning about archaeology, we offer books on Maya art, pyramids, temples and palace architecture, anthropology, iconography, epigraphy, ethnohistory, and other aspects of Maya culture.
You will also find titles on Teotihuacan, Toltecs, Olmecs, Mixtecs, and Aztecs. Our books cover Belize, Guatemala, Mexico, and Honduras.
If you want inexpensive popular paperback books on the Maya, we recommend you go to Barnes & Noble, WaldenBooks, B. Dalton, or your other local home town bookstores.
Our lists hard-to-get coffee-table art books plus monographs for research. As a result FLAAR is an ideal source for libraries, museums, schools, and colleges, as well as for your own personal library.
E-mail: [email protected]

Updated December, 2009
New page format posted October 15, 2009
New page format posted July 8, 2009