Books and articles about Virola Guatemalensis

The seed pod of this tree is effectively identical in every aspect to that of nutmeg. But Virola guatemalensis is native to Mesoamerica. So far, in four years of searching, we have found only a single tree, in an orchard near Puerto Barrios, Izabal, Guatemala. Since there were no flowers we have no way to know for sure whether this is nutmeg from Asia or Virola guatemalensis from Guatemala.
A year later we found remains of wilted flowers on an offspring of this tree. These flowers were very small. Thus I assume they are nutmeg and not the Guatemalan species.
When you cut the seed pod open the fragrance is almost overpowering. This is among the strongest fragrances of any of the cacao flavorings. It is definitely not gentle. I have not eaten it, nor tried it in chocolate. This I will do once I can be sure it is the Guatemalan species.
Check out Virola Guatemalensis page on our maya-ethnobotany.org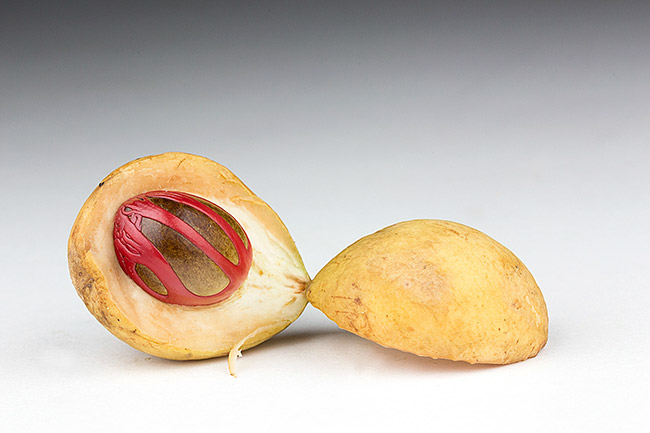 Fruit of Virola guatemalensis, photographed by Sofia Monzón in FLAAR studio. Date: March 2013


Introductory bibliography on Virola Guatemalensis
ARGUEDAS, M. and P. CHAVERRI
1997
Nuevo reporte en 7 especies forestales nativas en Costa Rica. III Congreso Forestal Nacional, San José, Costa Rica. 152-154 pages.
BENITEZ, R. and L. MONTESINOS
1999
Clasificación preliminar de sitios para plantaciones con Hyeromina alchorneoides, Vochysia guatemalensis, Vochysia ferruginea, Virola koschnyi y Terminalia amazonia en la zona Noratlántica de Costa Rica. Tesis. Lic. Universidad Nacional, Heredia Costa Rica. 88 pages.
BENITEZ, R. and L. MONTESINOS
1988
Catalogo de Cien Especies Forestales de Honduras: Distribución" Propiedades y Usos. Corporación Honduras de Desarrollo Forestal (COHDEFOR). Escuela Nacional de Ciencias Forestales (ESNACIFOR). Siguatepeque, Honduras. 216 Pages.
BUTTERFIELD, R.
1995
Desarrollo de especies forestales en tierras bajas húmedas de Costa Rica. CATIE. Turrialba. Costa Rica. 42 pages.
BUTTERFIELD, R.
1995
Promoting biodiversity: advances in evaluating native species for reforestation. Forest Ecology and Management (75): 111-121.
CÁCERES, Armando
1999
Plantas de Uso Medicinal en Guatemala. Editorial Universitaria.
GUEVARA, C. and N. ZAMORA
1997
Evaluación del crecimiento y productividad de 5 especies nativas plantadas en Sarapiquí, Heredia. Costa Rica. Tesis. Lic. Universidad Nacional, Heredia. Costa Rica.
MONTAGNINI, F., PIOTTO, D. and A. UGALDE
2002
Plantaciones forestales con especies nativas: una alternativa para la producción de madera y la provisión de servicios ambientales. In: II Congreso Forestal Latinoamericano. Guatemala. 10 pages.
MURILLO, O., BADILLA, Y. and G. OBANDO
2002
Reforestación con especies nativas en la zona norte del país. In: Simposio- Taller de especies nativas. Universidad Nacional. Heredia, Costa Rica. 7 pages.
THIRAKUL, S. and M. MALDONADO
1998
Manual de Dendrología para 146 especies forestales del litoral atlántico de Honduras. Segunda Edición. Reivisión y Complementación. Administración Forestal del Estado (AFECOHDEDOR) Programa Forestal Honduras-Canada. Proyecto de Desarrollo del Bosque Latifoliado (PDBL). Editor. Escuela Nacional de Ciencias Forestales (ESNACIFOR). La Ceiba, Atlántida, Honduras. 502 Pages.

First posted in August 2014